After the Vietnam Food Administration released news of food poisoning cases in Japan from pickled Chinese cabbage on August 22, consumers are concerned of such Chinese vegetables selling in huge quantities in markets in the country.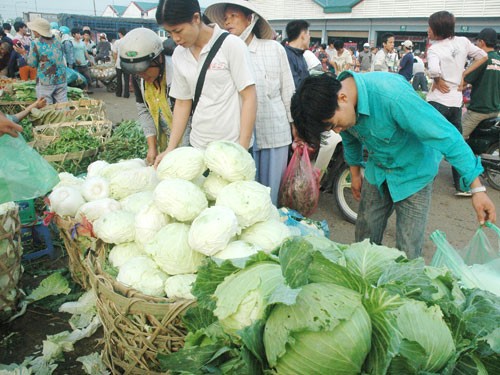 Chinese cabbage sells in huge volumes in markets in Vietnam and is difficult to differentiate from home grown cabbage
Japanese health officials say that so far six people have died and at least 100 others are suffering infection from pickled Chinese cabbage containing E-Coli bacteria in northern Japan.
Officials in Hokkaido say that the pickled Chinese cabbage was packed in late July by two local producers and sold through proper channels.
Though most victims were elderly people living in nursing homes, one four-year-old girl in Sapporo City died last week, just a few days after eating the cabbage.
Pickled Chinese cabbage is a popular Japanese side dish.
Vietnam also imports Chinese cabbage through Tan Thanh border gate in the northern province of Lang Son.
Chinese cabbages are grown all year round while Vietnamese farmers will start growing the vegetable in the next three months. This cabbage is sold in markets for VND15,000 a piece.
Nguyen Xuan Hong, head of the department of Plant Protection, said on August 23 that Japan Times Online Newspaper had released a different vegetable pickle that producers make as per Chinese methods.
Therefore, Hong said there may be a misunderstanding in translation. His department will contact the Vietnam Food Administration for more accurate information.