After cases of bacteria contaminated meat products were allowed to be imported and sold on the market, Sai Gon Giai Phong, on July 23, met some businesses and authorities to discuss the problems.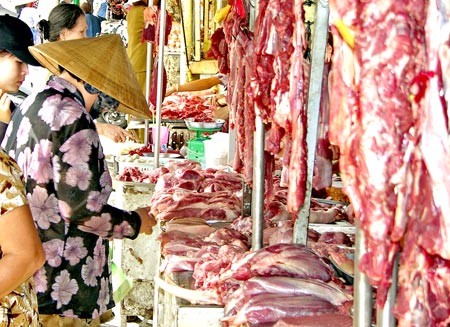 Consumers do not know if meat that companies sell on the market is bacteria contaminated or not (Photo: SGGP)
Inspectors from Ho Chi Minh City's Department of Animal Health in early July discovered over eight tons of contaminated imported frozen chicken wings at Truc Den Ltd Co.
After being allowed to import 100 tons of chicken products from an Australian company, Hazeldene's Chicken Farm Pty Ltd, Truc Den Company imported 13.5 tons of chicken wings that were tested at the Animal Health Agency Zone VI.
After two tests, the agency said that the lot did not meet standards of food hygiene and safety because it was contaminated with bacteria, including E. coli and Coliform.
The agency asked the company to sterilize the lot. However, the company took a sample itself for a third test and told the agency that "the sample meets food hygiene and safety."
The company then conducted sterilization for just one ton of contaminated chicken wings and sold the lot to the market.
According to the Department of Animal Health, the imported frozen meat products have to be kept in the cold storage at the port.
Meanwhile, Lam Bong, from Intimex Import Export, said that the department may have contaminated the samples during transportation.
Such results must be conclusive, he said, and suggested an independent testing organization.
False expiry labels
Representatives of Intimex Binh Duong Branch and a HCMC based company, Thao Tien Food Import, said that many imported lots just had the production day without the expiry day, especially goods imported from the US.
Companies set the expiry one year or 18 months themselves, they said.
Pham Van Dong, head of the quarantine department, said that the expiry day is regulated by the producer. In case that the producers do not set the expiry day, it will be 18 months in the condition that it has to be preserved under minus 18 degrees Celsius.
That businesses base their own expiry dates on production days is unacceptable, Mr Dong said.
Sterilization prohibited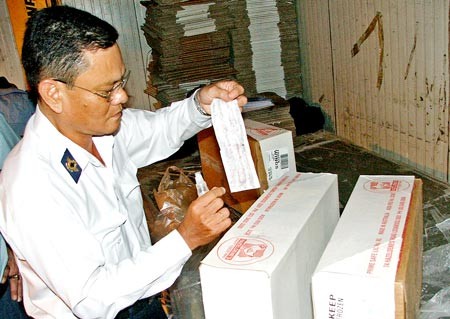 An official seals off bacteria contaminated frozen chicken wings at Truc Den Ltd, Co in HCMC (Photo: SGGP)
The head of the Animal Health Department, Bui Quang Anh, July 14 said that lots that do not meet food hygiene and safety were not allowed to be imported.
In the case they were imported already, they had to be re-exported or destroyed.
Many businesses feel dissatisfied with the ban on sterilization.
Minh Hien, head of the export import department of Vissan, said that sterilization helped to make food cleaner and was applied by many countries, including the US and Canada.
It is unreasonable to prohibit sterilizing, Ms Hien said.
Ton Quang Hung, deputy director of Ha Long Canned Food, said that the danger that food getting bacteria in the transporting process is very high.
Thus, businesses do not know what to do if they are not allowed to sterilize.
Re-export may not be accepted by the seller and it also brings complex procedures, and destroying is costly, Mr Hung said.
The department recently also prohibited importing goat penises and internal organs of animals for human consumption, as there was a high risk of contamination.
Truong Thanh Thien, deputy director of Loc Thinh Phat Food Import in HCMC, said that the prohibition has caused a lot of difficulties for businesses.
Mr. Mai Xuan Hiep, a deputy head of the department, who is in charge of the southern region, said that the goal of management is to ensure health for consumers.
His department could not permit importing the food, which other countries use for feeding their animals and could not permit to sterilize lots that do not meet standards after testing.
Businesses importing frozen meat products have to follow current regulations. However, the department is willing to adjust unreasonable regulations if there are any, he said.