The Vietnam Food Administration has discovered several milk producers cheating on protein content.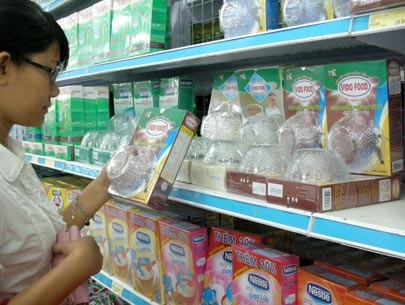 Milk products at a supermarket in HCMC's Go Vap District. Vietnam's food watchdog has found many milk producers making false claims about their products' contents following recent tests (Photo: Tuoi Tre)
Concerned agencies reported that 53 out of 210 baby formula, milk powder, and other products that were tested had much lower protein contents than their labels indicated.
The tests, done in 14 provinces and cities, also found lower fat content than labeled in a fifth of the products.
The head of the Department of Food Hygiene and Safety, Dr. Nguyen Cong Khan, called for regulations on advertising to be more stringent, and make penalties extremely stringent to deter would-be offenders.
He hoped people's committees would join the action against dairy firms since they have the power to slap fines of VND100 million or even shut down a factory.



Vido Food milk powder made by Huong Khanh Production & Trading Company based in Tan Phu District has its label indicating 20 percent protein content but tests showed it to have a mere 1.33 percent.

Ha Lan creamed powder milks made by Bich Co Enterprise in Binh Tan District and Tan Thanh Ngoc Company in District 11 claim 13 percent protein and over 5 percent but tests showed 0.62 percent and 0.34 percent.

Uc sweet and fat milk "Enter Milk" made by Tien Buu Foods Company in District 12 claims 34 percent but tested at 2.81 percent

Calcium milk powder made by DHA Food Company in District 7 claims 30.1 percent but tested at 1.4 percent.

Nutritious Artiplus milk powder made by Tan Uc Viet Company in Binh Tan District claims 21.25 percent but tested at 19.81 percent. 
Related article:
Several milk makers cheating on protein content: ministry
Milk quality raises public concern