Even though there has been no reported case of bird flu in Viet Nam for nearly a year, the risk of a fresh outbreak here is high now that the disease is popping up in several neighboring countries.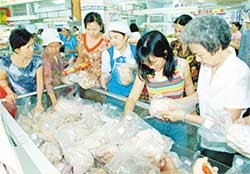 People buy safe chicks at supermarkets
A report from the Health Ministry's Pandemic Control Department says the virulence and spread of Type-A Influenza is hard to pin down as the conditions differ from region to region.
In Indonesia, for example, the disease is spreading quickly at the moment.
The World Health Organization is warning that scientists have discovered a virulent strain of the H5N1 virus in China's poultry flocks and it is spreading fast too.
In Viet Nam, one of the worrisome aspects is that several government agencies tasked with preventing an outbreak of the disease have been alarmingly negligent in their work.
On Wednesday an official from the Ho Chi Minh Animal Health Service pointed out how illegal trading in live water fowl and poultry products was increasing in some places, and some households had started raising poultry again without permission from the government.
Vendors smuggle live poultry into Ho Chi Minh City
In some markets, he added, vendors were selling uninspected live chicks and eggs.
Also discovered was the smuggling of poultry into Ho Chi Minh City along highways 1A and 22 and Road No. 10.
In all, the police had dealt with 134 incidents of illegal poultry transportation, he said, along with 31 cases of illicit incubation in District 8, Go Vap, Cu Chi, Nha Be and Can Gio.
Since Viet Nam is hosting the Asia Pacific Economic Cooperation summit very soon, the Health Ministry wants to see a big improvement in terms of publicizing the dangers of bird flu, monitoring the situation and being alert for the first signs of infection, whether in poultry or humans.
The ministry has delivered a wake-up call by sending its people to 55 provinces and cities to warn of the dangers and explain the idea of a quick response.
The ministry has also worked with the World health Organization to run 19 training courses on SARS, flu and bird flu for doctors and nurses from across the nation.
A system of online consultation has been installed at the Preventive Medicine Service and the four Pasteur Institutes of Hygiene and Epidemiology have been linked up.