On the occasion of the 62nd anniversary of Doctors' Day, Ho Chi Minh City Party Chief Dinh La Thang yesterday lauded the sector's achievement in 2016 adding that dedicated medical workers and good ethic are highlights of health sector in the city.

The standing party committee held a meeting with outstanding medical workers on the occasion to encourage and praise their contribution to taking care of people's health condition for years.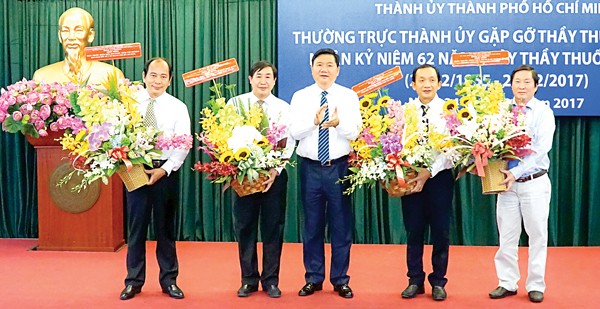 Party Chief Thang (center) gives flowers to congratulate four medical workers who are entitled People's Doctors (Photo: SGGP)
Party Chief Thang expected the sector to focus on monitoring diseases especially bizarre illnesses. He believed that each medical workers will try their best to make the sector prominent with its devotion.

Speaking at the meeting, director of the Department of Health Dr. Nguyen Tan Binh pointed out the sector's remarkable achievement including investing in facilities, treatment techniques such as using robot in operation, organ transplant, patient-centered services for patients' satisfaction; cooperation between private and public facilities to reduce the overloaded hospitals, providing more emergency stations, satellite infirmaries, applying technologies in preventive medicine task and epidemic control.

The sector will continue improving treatment quality, assessing hospital quality, tackling overloaded big infirmaries, building more satellite facilities and pushing up the application of technology.

Chairman of People's Committee Nguyen Thanh Phong, Chairwoman of People's Council Nguyen Thi Quyet Tam and others leaders in the standing party committee and more than 300 outstanding medical workers attended the meeting.

On the occasion, Party Chief Thang congratulated deputy head of the Department of Health Dr. Thang Chi Thuong; Principal of Pham Ngoc Thach Medicine University Dr. Ngo Minh Xuan; Director of Gia Dinh People's Hospital Dr. Nguyen Anh Dung; and former director of Tumor Hospital Dr. Le Hoang Minh who were awarded the title of People's Medical Workers

Elsewhere in the city yesterday, Nguyen Huu Hiep, a member of the standing party committee and representatives from the department of Health dropped by the house of Professor Nguyen Dinh Hoi, former director of the Medicine University.

On the same day, the standing committee of the youth Communist Union in HCMC organized a meeting to award Pham Ngoc Thach Prize to 27 prominent medical workers. Deputy Party Chief Vo Thi Dung praised young medical workers who silently devote to taking care of people's health.

These young medical workers are not only good at their skills but having initiatives, researches benefiting treatment for patients as well as volunteer to join charity activities.

After the award ceremony, young medical workers will partake in the journey "Young doctors accompany with locals in border crossings" to provide consultation of healthcare and give free drugs to poor residents in the southern province of Binh Phuoc.

Nguyen Thien Nhan, chairman of the Vietnam Fatherland Front yesterday visited and congratulated medical workers of the Department of Health in HCMC. Accordingly, HCMC is a big city, the sector not only provides treatment to locals but also to patients in neighboring provinces in the South, said Mr. Nhan.

Mr. Nhan expected the medical workers of the city will continue improving treatment quality to taking care of people's health better.