There is a deep public concern over the deaths of children in district hospitals in the central province of Quang Nam, due to negligence and lack of trained medical staff.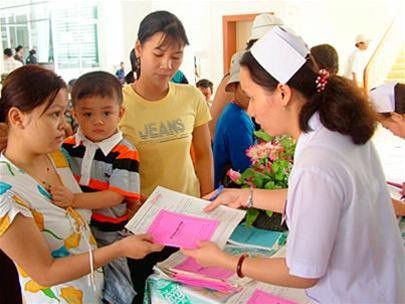 File photo shows that patients comply with the doctor's instructions.
10 children between the ages 1-3 were admitted with bronchitis in the Tra Linh commune hospital, in the mountainous Nam Tra My district in the central province of Quang Nam. However, due to negligence and lack of good health care they died. Four more children died in the Tra Don commune in Nam Tra My district from the same disease, due to poor care by medical workers in the Tra Linh commune.
Initial statistics from the province showed that 405 babies under the age of six had died in 2010, including 132 kids from Nam Giang district and 117 kids from Dong Giang and Phuoc Son districts.
Dr. Nguyen Duc Tan, deputy director of the General Hospital in the province, said his hospital is responsible for examination and treatment of residents in the districts of  Dien Ban, Hoi An, Duy Xuyen and Que Son. However, medical facilities are not adequate to fulfill the needs of all patients.
Though the government had spent VND6 billion in 2010, by selling government bonds to purchase medical equipment for the hospital, as it had no equipment the previous year, there was still an acute shortage of personnel. As a result, the hospital has to transfer the very serious cases to larger hospitals in the central province of Da Nang.
Dr. Nguyen Nhu Chinh, deputy head of the Department of Health, hoped that the situation would change for the better once the province received the US$11 million fund from the Asian Development Bank to purchase modern medical equipment.