Dengue fever is on the rise as the rainy season continues in HCMC. 1,600 dengue fever cases have been reported, among which there have been 20 deaths, an official of the HCMC Preventive Health Center said.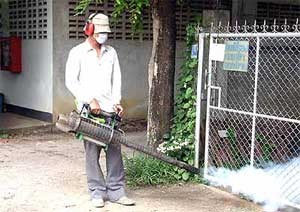 Anti-mosquito chemicals are sprayed in high risk areas

HCMC has seen the number of dengue fever cases in local hospitals increase from 45 to 80 cases over the last week, to make the total number of dengue cases in HCMC since the beginning of 2007 reach 1,600.

According to the HCMC Preventive Health Center, among the areas badly hit by the epidemic are Binh Hung commune (Binh Chanh suburban district), Tam Thon Hiep and An Thoi Dong communes (Can Gio suburban district), Thanh My Loi ward (district 12), district 7, Tan Binh, and Tan Phu districts. The three areas in high risk of being hit by dengue fever are district 6, 8 and Binh Thanh district. There were reports of one more epidemic-hit area yesterday in Xuan Thoi commune (Hoc Mon suburban district).

According to Mr. Nguyen Dac Tho, Vice Director of the Preventive Health Center, although dengue fever appeared in HCMC two months later than in the Mekong Delta region, at this rate, the number of the dengue fever victims in the city may catch up with that of the Mekong Delta.