There has been an outbreak of dengue fever in Ho Chi Minh City and in the Mekong Delta. Experts warned that this year is the peak of the disease. Eighty to 85 percent of reported cases are in the south.
There have been 33 fatalities among the 37,000 people who have been infected with the mosquito-borne disease so far this year, according to the Ministry of Health.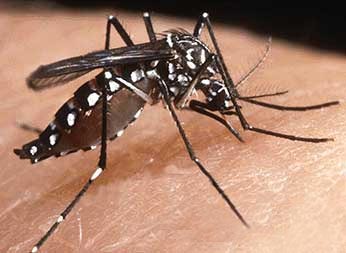 Rainy season is conducive to the breeding of many mosquitoes that can spread dengue fever 
The south is the hardest-hit region, accounting for 80-85 percent of reported cases. Ho Chi Minh City has 6,200 patients. The Mekong Delta provinces of Ca Mau, Soc Trang, Tien Giang, Ben Tre, Kien Giang, and Bac Lieu have also been hit.
The Infection Department of the HCMC-based Children Hospital 2 admitted 126 patients, including 80 dengue fever victims, on Tuesday. The hospital has also admitted 27 patients from various parts of the country.
Children between 5 to 10 years old are the most vulnerable to the disease. Fourteen neonatal babies suffer from this dangerous condition. Two of them, Nguyen Phuong Huy, six months old and Nguyen Phung Tien, eight months old and both from District 9,  had narrowly escaped death, said Dr. Tran Thi Thuy, deputy head of the department.
There is no more room for dengue fever patients and the departments 40 beds are full, said Mr. Le Hoang Son, director of the Can Tho City Pediatrics Hospital.
Son said 30 percent of the children were from Can Tho while the rest were from other provinces in delta.
The Districts of Tran Van Thoi, Thoi Binh, U Minh, Nam Can in the southern province of Ca Mau in July announced that they were experiencing a dengue fever epidemic and were struggling to cope with an influx of dengue patients.
In Ha Noi, 222 people have been infected with dengue fever so far this year. Some districts in Ha Noi have many mosquitos, including Thanh Tri, Thanh Xuan, Hoang Mai and Tu Liem.
Dang Thi Kim Hanh, a secretary at the Ha Noi's Dengue Fever Control and Prevention Program, said that the weather will be humid in three next months. September to November and rainy season is conducive to the breeding of Aedes aegypti mosquitoes, which carries the germ to human.
The ministry's doctors and epidemic experts toured to Binh Duong and Binh Phuoc provinces on Tuesday to check dengue fever task in the two provinces.
The medical sector tries its best in a bid to control the disease, said Dr. Nguyen Thanh Dan, director of the Medicine Preventative Department in Ca Mau. Dr. Nguyen Trung Nghia in Can Tho reported that his city provided residents with feed for a million fish to eat mosquito larva.