By the end of September Vietnam has seen more than 58,000 cases of dengue fever, a 25 percent increase compared to the same period last year, and 44 deaths, recently said the head of the Health Ministry's Preventive Medicine and Environment Department, Dr. Nguyen Huy Nga.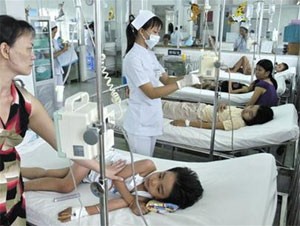 As many as 700 people in Ha Noi are affected by dengue fever every week, 10-times higher than in previous years. (Photo: VNN)
The numbers of dengue fever cases increased eight-fold in the North and doubled in the Central and Central Highland regions, Dr. Nga said.
Many dengue fever cases were found in areas with poor sanitation and hygiene, with outbreaks grouped in Ho Chi Minh City and Hanoi.
In Ho Chi Minh City, there were nearly 7,000 cases of dengue fever, double that of the same period last year.
In Hanoi, in the past nine months, there were more than 6,000 cases of dengue fever, half of them recorded in August alone.
Dr. Nga said the main reason for the outbreak of dengue fever was that authorities and citizens have under estimated the effects of dengue and have failed to act appropriately.
Preventative action faces a number of difficulties due to a surge in the number of patients in general and the spread of the A/H1N1 flu. Therefore, many places just focused on preventing A/H1N1 swine flu and forgot dengue fever, which is dangerous if preventative measures are not used effectively, Dr. Nga adds.