The central highlands province of Kon Tum said last Thursday it had recorded over 600 patients infected with dengue fever, one of whom succumbed to the disease.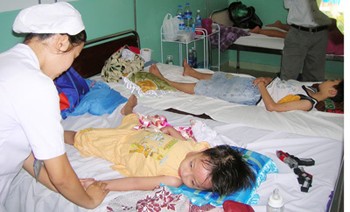 Children with dengue fever are treated at HCMC Children Hospital No.2 (Photo: SGGP)
The provincial Preventive Health Centre announced that the fever had spread to nine districts so far.
With nearly 300 dengue patients Kon Tum City had the highest number of people infected with the disease, the centre said.
In Gia Lai Province, Pham Quoc Bao, director of the province's Department of Preventive Health said the situation regarding dengue fever was "complicated." This week alone, the province has seen more than 250 people hospitalized with the disease.
Pleiku City has 150 patients, increasing the number of people infected with the disease to 1,100 patients. One person had died of the fever.
The Central Highlands' Institute of Epidemic Prevention has supplied Gia Lai with 500 litres of chemicals to spray areas with mosquito larvae. A sum of VND500 million (US$25,000) from the provincial budget and VND120 million (US$6,000) from Pleiku City will be used to buy petrol and to pay for people who participate in the fight against the fever.
Until now, 1,456 people have contracted dengue fever in Da Nang Province, an increase of six times compared to the same period last year, and one person has died.
In Phu Yen Province, dengue fever has been recorded in 27 out of 114 communes.
Dr. Nguyen Thanh Truc, deputy director of the Phu Yen Department Health said the province had recorded 2,380 cases of dengue fever as of August 17.
Provincial authorities had announced three days earlier that the fever had spread across the province.
Medical workers from local preventive health departments have sprayed chemicals to disinfect the environment and advised residents to keep their residential quarters clean to prevent the epidemic from spreading further.