Reports from the Department of Epidemiology of the Da Nang Preventive Health Center have shown that dengue fever has spread to Da Nang city, where there were recent reports of 108 new cases.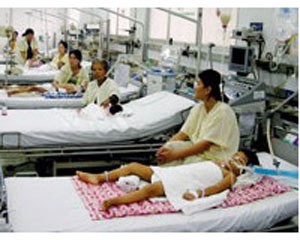 Most dengue fever victims are children.

The main cause of the epidemic is believed to be the unpredictable weather and unhealthy environment around the local slums.

The Preventive Health Center has cooperated with local authorities to spray anti-mosquito chemicals in high-risk areas and provide those families with more than two family members already suffering from dengue fever with an insect spray.

Since June, the southwestern province of Ben Tre has seen 1,400 dengue fever cases, the majority of which have been reported in the suburban district of Binh Dai. Every day, the Nguyen Dinh Chieu hospital receives 70-80 dengue fever patients. The hospital is currently upgrading its system and employing more staff to cope with the ever-increasing number of dengue fever patients.

The Ben Tre People's Committee has also ratified a project worth VND1.6 billion (approximately US$100,000) to buy more medicine, upgrade equipment and train staff to deal with the epidemic.