Deputy Prime Minister Nguyen Thien Nhan convened a meeting in Hanoi on October 28 asking the health sector to spruce up management after a 37-year-old woman was dumped into the river following a botched cosmetic surgery at the Cat Tuong Beauty Salon.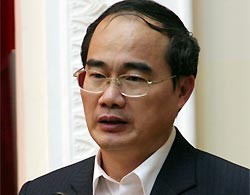 Dep.PM Nguyen Thien Nhan
Speaking at the meeting, Deputy PM Nhan ordered the Ministry of Health and the People's Committee to verify the responsibility of individuals and agencies in the case concerning the above incident.
Nhan said the Ministry needs to check the present regulations and tighten management accordingly in private medical facilities across the country. There should be regulations whereby state-run hospital physicians must report to the public hospital management board about their part time work in private clinics.
In addition, a state-run hospital management board should oversee the part time working activities of these doctors.
At the meeting, Nguyen Thi Bich Ngoc, Deputy Chairwoman of the People's Committee in Hanoi, openly admitted that Hanoi leaders must also take responsibility for the case at the Cat Tuong Beauty Salon that has been causing much public indignation.
Hanoi City has sent a dispatch to the Department of Health and the People's Committee in Hai Ba Trung District asking for verification of responsibilities of individuals and agencies to penalize.
Health Minister Nguyen Thi Kim Tien said at the meeting that they had set up five inspection teams to issue comprehensive checks and address regulations for private medical clinics throughout the country.