There are valid reasons for Vietnam's failure to prevent iodine-deficiency disorders, including neglect by local governments and agencies, Deputy Prime Minister Truong Vinh Trong has said.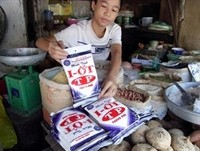 People should use iodine salt to eradicate disorders caused by iodine deficiency
Speaking at a meeting between the Ministry of Health and UNICEF to mark a day to mobilize the entire country to consume iodine salt, November 2, in Hanoi, he also instructed the ministry, other agencies, local authorities, and the media to raise public awareness of iodine deficiency.
He hoped for continued international assistance for Vietnam's efforts to eradicate disorders caused by iodine deficiency.
UNICEF's representative in Vietnam, Jesper Morch, assured delegates that his agency is ready to help Vietnam ensure that its citizens, especially women and children, do not suffer from such disorders.
A recent survey done by the Endocrinology Institute in Hanoi showed that the country has almost eradicated iodine-related disorders, with 92.3 percent of all households using iodized salt, and that the rate of children suffering from thyroid problems caused by the shortage of the iodine has been reduced to manageable levels.
However, iodine deficiencies reappeared in several areas in 2008-09, it found.