The Steering Board of Diarrhea Prevention yesterday met medical officials from diarrhea-affected areas, including Ha Noi and the northern provinces of Hai Phong and Ha Tay, to discuss the situation and develop appropriate responses.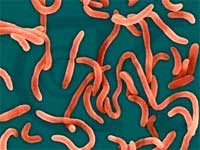 Vibrio cholera virus
The development of the disease is very complicated and it is likely to spread, according to Dr. Tran Dac Phu, deputy head of Department of Preventative Health and Environment.
To date, 15 of the 21 victims have tested positive for the Vibrio cholera virus, according to the Ministry of Health.
About 95 percent of the victims are men of working age. They catch the disease by eating vegetables, fish paste, dog meat, or duck blood pudding, said Dr. Nguyen Tran Hien of the Institute of Hygiene and Epidemiology.
The risk of more cases is very high, especially as summer approaches, said Deputy Health Minister Trinh Quan Huan. He stressed that farmers water their plants with human feces.
Officials from the MoH asked agencies to swiftly quarantine the disease-hit provinces and increase public awareness about the disease and what foods should be avoided. Authorities must strengthen their surveillance of food hygiene and safety. The practice of watering plants with human feces must be strictly banned.