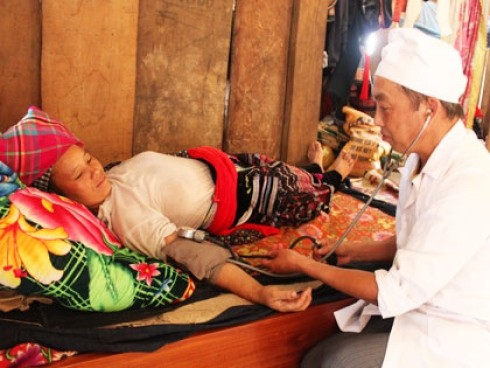 Dr Hang A Ho examines a patient in Pu Sam Cap Commune in the northern mountains. The health sector should adopt favored treatment for medical staffs who work in imporverished areas (Photo: Tuoi Tre)
Vietnam is in dire need of about 444,500 medical staff by 2015, said the Ministry of Health at a meeting in Hanoi on November 14, held to implement plans to increase more human resources in the medical sector for the period 2012-2020.
At least 444,500 more medical staff is required in the country and in addition there is need to train an additional 14,252 doctors, pharmacists and nurses.
The medical sector needs to focus on qualified medical staff and provide proper provisions for them in districts which seriously lack doctors.
The medical sector also has to improve management capabilities as well as adopt a favored treatment for medical staff, especially those working in remote mountainous regions and impoverished areas of the country.
The medical sector is also striving to raise the ratio of doctors per capita by 2020 to 52 medical staff per 10,000 people; 10 doctors per 10,000 people; and 20 nurses per 10,000 people. To achieve this target, the sector will establish two health science facilities in Hanoi and Ho Chi Minh City.