Professor Ian Frazer, one of the scientists to discover the vaccine against cervical cancer, will deliver a speech at a seminar on May 5 at the Medical Center on 215 Hong Bang Street in District 5, Ho Chi Minh City.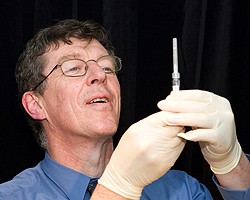 Professor Ian Frazer will deliver speech at a seminar in Vietnam
Professor Ian Frazer, Director of the Center for Immunology & Cancer Research and President of the Australian Cancer Council discovered the first vaccine to protect against cervical cancer, along with his associate Dr. Jian Zhou.
The vaccine against cervical cancer, developed by Professor Frazer and Dr. Jian protects young woman against four strains of the Human Papilloma Virus (HPV), which is the cause of 70 per cent of cervical cancer cases. Worldwide, more than 54 million doses have already been administered to girls aged 13 to 17.
Professor Frazer continues to work on vaccines that treat people already infected with HPV and distributes the much-needed vaccine to women in developing countries.
The seminar will promote innovative research approaches to finding the causes of cancer, encouraging best practices in scientific research, international collaborative approaches to developing the cervical cancer vaccine and improving awareness of the vaccine.
At the seminar, the "Catching Cancer" documentary will be on view, featuring Nobel Laureates and world experts, including Professor Ian Frazer, as the front-runners.
"Catching Cancer" is a fast-paced investigation of the causes that trigger cancer. It combines intimate personal stories and intriguing scientific facts to reveal how finding a hidden mole, such as a virus, is no reason to panic, but rather a reason to celebrate.
Mr. Graeme Swift, Australian Consul General, Professor Vo Tan Son, Director of HCMC University Medical Center (UMP) and Professor Do Dinh Cong, Chief of Department of Science & Training are the chief coordinators of the seminar organized by the Australian Consulate-General and the HCMC University of Medicine and Pharmacy (UMP).