A corporate programme gifting cows to poor households as a poverty alleviation measure has done the opposite in four northern provinces.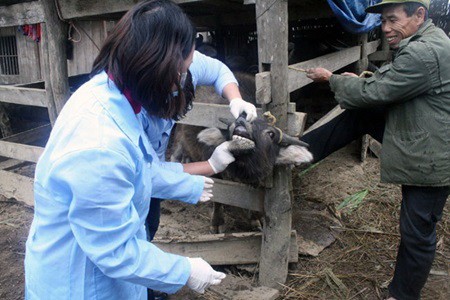 Two vets check a buffalo for foot-and-mouth disease in Lang Son Province's Gia Loc Commune. — VNA/VNS Photo Hoang Nam
Just three days after receiving a cow from the programme in early December, Nguyen Trong Vinh is despondent.
His entire herd of 17 healthy cows has been infected with the foot-and-mouth disease. Three cows, including the one that he received as a gift, have died.
The livestock farmer, a resident of Trung Village in Thanh Hoa Provinces, said: "My whole herd is very weak and may not make it. I'm on the verge of going broke. All because of that programme cow," Vinh told Nong thon ngay nay (Countryside Today).
According to the Thanh Hoa Veterinary Department, the foot-and-mouth disease has been spreading in the northern province since December 11, infecting 52 cows and buffaloes in seven communes of Lang Chanh District. About half the infected cattle were distributed by the aid programme.
A similar outbreak of the foot-and-mouth disease has been reported in the northern province of Lang Son, another locality where the aid programme has been active.
The programme was carried out in Lang Son's Tam Gia Commune since November 23, giving one free cow to each of its 124 poor households. All the cows were later found to be infected with the foot-and-mouth disease. Ten have already died.
"My cow did not eat anything from the day I took it home. Its mouth hurt pretty bad and there were red ruptures on its feet that made it lame," said farmer Hoang Van Tien.
"The vets treated it, but the cow died seven days later."
Another 60 programme cows in neighbouring Dinh Lap District have also been detected with the disease, bringing the provincial total to about 200, the local veterinary department has reported.
Apart from Thanh Hoa and Lang Son, two other northern provinces, Lao Cai and Yen Bai, have also recorded outbreaks of the foot-and-mouth disease following implementation of the free-cow programme.
The Yen Bai Veterinary Department has so far counted 46 infected cows among those given by the programme to poor households in three communes - Pa Lau, Hat Liu and Ta Si Lang - and Tram Tau Town.
The Lao Cai Veterinary Department has reported that 33 programme cows in Muong Khuong District have been infected with the disease.
Quarantine violations
Veterinary agencies say that the aid programme's cows were collected from various areas without following disease detection measures.
For instance, the Lan Thanh Trade and Services Company in Thanh Hoa, tasked with providing cows for Lang Son Province, failed to abide by quaratine regulations while transporting the animals.
The programme cows had not been vaccinated against the foot-and-mouth disease or placed in quarantine before they were given to local households, the agencies said.
The Ministry of Agriculture and Rural Development has asked the company that funds the programme to suspend it until the foot-and-mouth outbreak is controlled.