According to the Department of Preventive Medicine under the Ministry of Health, since the beginning of the year, the number of dengue fever infection cases decreased by 33.7 percent and the mortality rate was down by 50.6 percent compared the same period last year with 11 deaths only.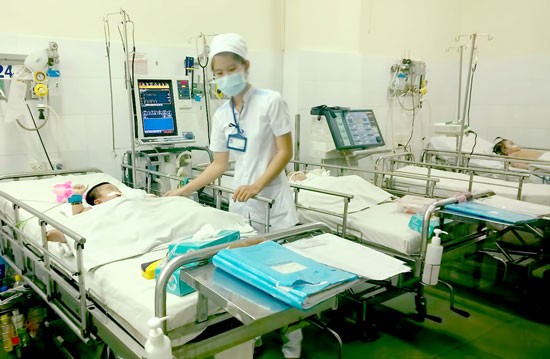 A children is treated in the Children Hospital No.1 (Photo: SGGP)
However, most of infection cases are in southern provinces such as Ho Chi Minh City, Dong Nai, Binh Duong, and Soc Trang.
The Ministry therefore said that the infection cases would  be on upward trend if there has been no preventative measures against the disease.

In two first weeks of August, in HCMC, there has been an upward trend of some fatal infectious diseases such as dengue fever, hand-foot-mouth, respiratory problem among children.
Worse, the new school year is going to start, it is conducive for the spreading of tropical diseases.

According to the Preventive Medicine Department, Ho Chi Minh City in particularly and southern provinces in general are entering rainy season which is conducive to above-mentioned fatal infectious diseases.
According to the Children Hospital No.2, since August, the hospital has received 7,000-8,000 patients and a majority of them have catch dengue fever. Averagely, the hospital's Infectious Ward admits around 70-80 inpatients excluding outpatients.
Dr. Nguyen Minh Tuan from the Children Hospital No.1 said that more children have been hospitalized with nearly 100 inpatients, most of them were from districts in the city and 40 percent of them were from southern provinces.
The Children Hospital No.1 has recorded three deaths since the beginning of the year.
The city's Department of Health said that the dengue fever was on upward trend in rainy season.
Since the beginning of the year, HCMC has 6,432 cases of dengue fever, an increase of 47 percent compared to the same period last year. Currently the outbreaks have been recorded in many districts including hot spots such as districts 8, Thu Duc, Binh Chanh, Hoc Mon, Binh Tan, Tan Phu and Go Vap.
Along with dengue fever, other infectious diseases such as respiratory problems and hand-foot-mouth are also increasing in HCMC. In the Children Hospital No.1, the number of inpatients are up to 300 cases meanwhile there are over 100 beds in the Respiratory Ward.
Therefore, two or three children must stay in one bed together, a nurse said. Dr. Anh Tuan said that the respiratory diseases and bronchitis were affecting children below 2 year old meanwhile children over two year old are having pneumonia.
Worse, those who have congenital hear diseases and chronic asthma are likely to catch infectious diseases and it is more difficult to treat these children, he said.
Medical experts say that the peak season of respiratory diseases falls in September and October. But many infection cases are seeing now in August. Accordingly, it is anticipated that these diseases will develop complicatedly in next months when the new academic year start and it will widely spread.
In addition, hand-foot-mouth is secretly spreading. According to the city's Department of Preventive Medicine, the cases of hospitalized hand-foot-mouth in first week of August are 133, 27 percent higher than four weeks before. There have been 3,921 hand-foot-mouth children were admitted in hospitals in the city.
To prevent the outbreaks of disease spreading, Deputy Chairman of the city People's Committee Hua Ngoc Thuan said that the health sector must actively implement measures against the diseases to reduce cases of infections and deaths as well as to prevent it from developing into the epidemic to threaten the community's health.
The People's Committee asked the health sector to keep close eye on infection cases and spray chemicals to kill mosquitoes-an animal to transmit the dengue fever. Moreover, the health sector must control and prevent outbreaks within 48 hours.
In August, the health sector in HCMC must launch campaign to kill mosquito larva and increase information of dengue fever and mosquitoes to residents in all communes.