The number of people infected with the swine flu continues to soar, with it now spreading in the general community rather than from people returning from pandemic affected zones, said a Ho Chi Minh City health official August 7.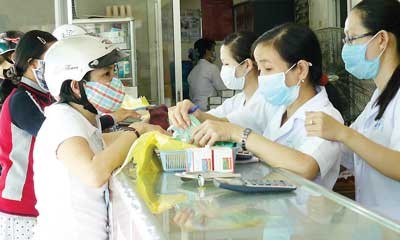 Residents in the central province of Khanh Hoa are rushing to pharmacies to buy medical facemasks (Photo: SGGP)
Dr. Nguyen Van Chau, chief of the city's Department of Health, said educational establishments need to disinfect their premises before the new academic year. In addition, training courses will be provided to teachers and guide them how to protect themselves and pupils.
Dr. Chau praised makeshift hospitals in schools, saying that afflicted patients will be arranged to receive treatment in hospitals in districts 7, 8 and Thu Duc to reduce pressure on big clinics. They will also help medical staff from contracting the virus from their colleagues.
He was concerned that the disease will spread among employees in boarding schools, rented houses and industrial parks.
He did, however, reveal the city has enough Tamiflu pills for everyone.
Following guidelines from Hanoi's Department of Education and Training, all educational establishments in the capitol closed over the flu.
However, parents of pre-school boys and girls are half laughing and half crying as they should be working, but have to look after their children. Some parents have asked for annual leave, while others have sent their babies to grandparents in the countryside.
Residents in the central province of Khanh Hoa, where Vietnam's first swine flu related fatality was reported, are very anxious about the disease.
Dr. Nguyen Van Xang, director of the province's General Hospital, said there had been an influx of people going to the hospital for tests. However, doctors will decide whether the patients have tests after diagnosis.
It was recently reported that Khanh Hoa residents have been quickly buying up medical facemasks since the H1N1 death was reported.
In related news, 35 new cases of the A/H1N1 flu were reported by the Ministry of Health August 7, raising the tally to 1,078 infections and one death.
The ministry warned employees in office buildings and schools to wear facemasks and heighten their personal hygiene.