Although medical clinics in districts play an important role in primary healthcare for local residents, more than 10,000 such clinics across the country have failed to attract patients for even basic treatment, resulting in overloading in hospitals.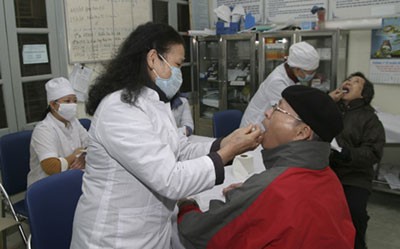 Few patients visit Trung Hoa Clinic in Cau Giay District in Hanoi (Photo: SGGP)
The new urban residential quarter Trung Hoa-Nhan Chinh in Cau Giay District in Hanoi has thousands of residents, yet the spacious medical clinic in Trung Hoa Ward is visited by very few patients in a week.
Occasionally parents take their children there for vaccinations or for simple treatment of flu or other common ailments. Accordingly, staffs there are mainly providing simple vaccinations. 
Nguyen Khac Hien, director of the Department of Health in Hanoi, said the City has around 577 ward and district medical clinics and most of them meet with national standards.
Nevertheless, only the elderly and these social top welfare brackets go there for health checks and treatment while other residents prefer bigger hospitals, as they have no faith in these clinics.
District medical clinics across the country receive few patients. Recently, the Department of Medical Examination and Treatment under the Ministry of Health, conducted a survey on the role of district medical clinics in Hanoi, Ho Chi Minh City, and Da Nang and Can Tho Cities in the Mekong Delta, which showed that a clinic only received an average of 29 patients a day.
The reason was that people were not willing to go to district clinics because of shortage of good doctors and inadequate facilities.
As per a survey in 125 communes in the northern provinces of Ha Giang,  Bac Giang, the central province of  Dak Lak and the Mekong delta province of Tra Vinh conducted by the Department of Medical Examination and Treatment, 23 communes had no doctors while Hanoi district clinics were short of 91 doctors and 499 pharmacists.
The Ministry of Health said that most doctors must act as leaders in clinics, attend meetings in localities and other sectors, which leaves them little time for their practice and other staff in clinics are busy with continuous implementation of various medical programs.
Furthermore, remunerations are not satisfactory, and fail to lure good staff.
In addition, lack of medical equipment in district clinics or poor maintenance is also a reason that local clinics fail to attract patients. Many clinics don't even have basic scanning or respiratory machines.
To resolve this current situation, experts said social contribution is needed to upgrade local medical clinics and purchase equipment along with proper policies to attract good doctors.