More than 100 employees (including doctors) at the Tu Du Hospital donated their blood on Tuesday in response to a campaign being waged by the Ho Chi Minh City Department of Health.
The campaign, which will run from February 2 -28, centers around "Doctor's Day" and targets younger hospital employees and their families.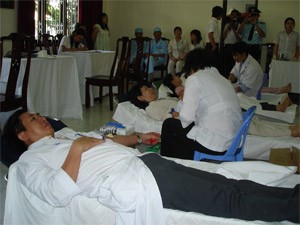 Dr. Xuan Minh donates blood at Tu Du Hospital ( Photo: U.Phuong)
So far, more than 60 doctors have taken part in the drive.
The campaign, being run for the first time this year, highlights the important role that blood donation plays in saving patient's lives.
Dr. Ngo Xuan Minh, Head of the Neonatal Department, said that the existence of the hospital's blood bank was made possible by generous donations from the hospital's doctors.
Dr. Xuan Minh also gave his blood in the morning and this is the 40th time he has donated his blood to save people.