A woman called for help from Sai Gon Giai Phong newspaper after a doctor at Phu Tho General Hospital in Ho Chi Minh City's district Tan Phu removed a cyst from her left ovary.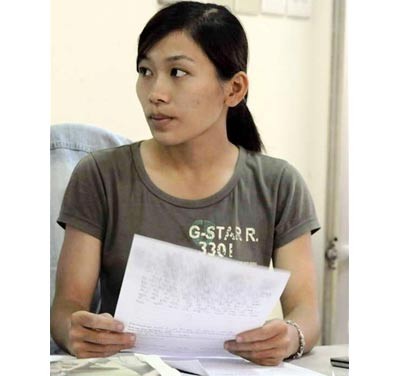 24-year-old Pham Thi Xuan presents  her case with reporter
24-year-old Pham Thi Xuan of district 12 was taken to the emergency room at Phu THo General Hospital on March 8 for treatment of a stomachache. After examining her, doctors said she had to undergo an operation to remove a corpus luteum cyst on her right ovary.
On the same day, Doctor Nguyen Thanh Son, deputy head of the hospital, examined the woman; however, instead of removing the cyst in right ovary, the doctor removed a cyst from her left ovary.
Moreover, she did not receive an explanation from the chief surgeon, who displayed indifference in the face of the patient's pain following surgery.
In a talk with reporter on July 12, Doctor Son said it is normal for cysts to move from right to left when they are large. He added the scan results provide only relative reliability in such cases.
However, in his report to the Ho Chi Minh City Department of Health, he failed to mention that the result changed after the initial examination. According to medical experts, doctor should not remove cysts entirely; rather, they should absorb blood from the cyst and untie its twisted matter in order to protect the ovary.
The department is making further inquiries into the case.