The Maternity Hospital in the Mekong delta city of Can Tho August 17 said that doctors have saved two pregnant women having HELP syndrome in serious condition.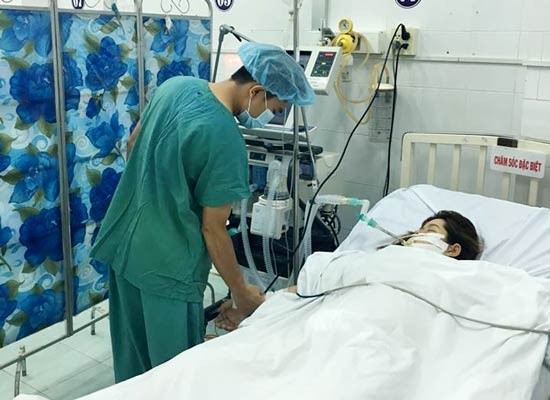 The pregnant woman in Vinh Long Province is being treated (Photo: VNA)
Some pregnant women with high blood pressure develop a condition called HELLP syndrome. HELLP stands for these blood and liver problems:

34 year old pregnant woman in Tam Binh District in the Mekong delta province of Vinh Long has her second kid with 35 week pregnancy.
She was hospitalized when she had serious pre-eclampsia, HELLP syndrome and her placenta early flake off.
Realizing that she is in dangerous condition, medical workers quickly provided intensive treatment and performed a C-section which is the best option for delivery to save lives of both mother and her kid.

She gave birth to a 1.9 kilogram baby daughter. Later, she had acute pleurisy which threatened her life; accordingly doctors provided intensive treatment to her, she was put on ventilator. She was transfused with much units of blood. Subsequently she recovered.

Similarly, the hospital also saved 34 year old pregnant woman in Ninh Kieu District in Can THo City who has 36 week pregnancy. When being taken to the hospital, she lacked amniotic fluid, pre-eclampsia, and HELLP syndrome. After providing intensive treatment, surgeons performed C section on her to save a baby girl weighing 2.3 kilogram.

The mother is recovering now and her baby is being taken care of in the intensive unit.


HELLP syndrome is rare but serious. It happens in about 1 to 2 of 1,000 pregnancies. About 2 in 10 pregnant women (20 percent) with preeclampsia or eclampsia have HELLP.