The Ministry of Health sent a dispatch to all hospitals across the country on Tuesday to maintain regular hospital schedule during the Tet holidays and not to turn away emergency cases or refuse to treat a patient.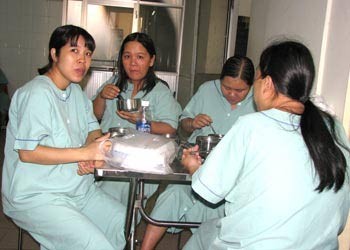 Pregnant women welcome Tet holidays in Tu Du Hospital
The dispatch asked all doctors in hospitals across the country to examine and treat patients promptly and without delay.
In case patients are taken to hospitals not of their initial choice, doctors must still provide treatment and clearly explain to relatives of such patients of regulations of the insurance card policy.
As per the dispatch, hospitals must ensure to provide treatment and security during Tet Lunar New Year. Hospital managers must arrange for medical workers to work round-the-clock during Tet as well as work out a plan to prevent fires and other mishaps.
Medical workers have been asked to speak to patients and relatives gently and warmly. Hospital managers should visit patients who stay overnight in hospitals during Tet holidays and the disadvantaged and beneficiaries of social policies should be given adequate attention.
Hospitals should remain alert for common diseases such as cholera, bird flu, swine flu, hand-foot-mouth and dengue fever.
On the same day, a meeting was held in Hanoi to discuss important tasks set for the medical sector in 2012. At the meeting, participants said the key duty of the medical sector in 2012 should be to reduce overcrowding of hospitals in big cities.
Hanoi will promote construction of 34 hospitals including Duc Giang, Donh Anh and Ba Vi. The capital city also called for more social contributions in establishing good quality private hospitals.