Nineteen medics, including 18 doctors and nurses and an apprentice, were confirmed as having been exposed to HIV (Human Immunodeficiency Virus) after they performed an emergency surgery on a woman last Saturday.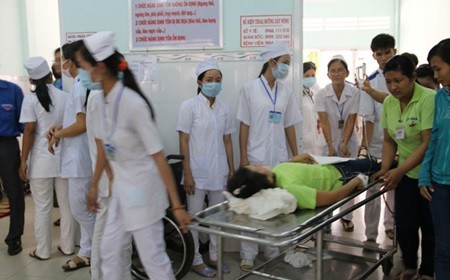 Doctors without medical gloves take a patient to the emergency room in the Mekong Delta Tra Vinh's General Hospital. — VNA/VNS Photo Phuc Son
The medics work at the Ha Noi Obstetrics and Gynaecology Hospital. Three of them are pregnant.
Dr. Nguyen Van Anh, director of the hospital, confirmed the development to Voice of Viet Nam radio this morning.
Anh said the exposed medics had been put on antiretroviral drugs, which are used to inhibit the virus and stop the progression of HIV.
"They will have to take regular tests in the next three to six months to see whether they were infected with HIV," Anh said.
The mishap occurred after the hospital took in an emergency case transferred from Quang Ninh Province.
The patient, a woman identified only as N.T.H., was hospitalised in an unconscious state and was bleeding from her vagina.
She was immediately taken to an operation room, where the doctors decided to remove her womb, which had necrotised, or suffered cell death, to save her.
In their rush to operate on her, the medics did not put on protective gear, including special clothes and eyewear.
It was only when the results of her blood tests arrived after the operation did they come to know that she was carrying HIV.
Her family had not revealed before the operation that she was HIV-positive.
It was later found out that the patient had contracted the deadly virus after marriage, and her husband had died 11 years ago of complications resulting from AIDS (acquired immune deficiency syndrome), which is caused by HIV.
The patient has recovered and is still in the hospital.