For the first time, Vietnamese doctors have saved a patient with a life-threatening case of avian flu (A/H5N1), said the Bach Mai Hospital in Hanoi.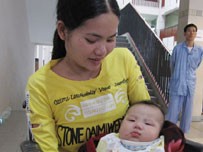 Nguyen Thu Thuy and her three month old child ( Photo: Thanh nien)
The patient is 25-year-old Nguyen Thu Thuy from the district of Soc Son in Hanoi. She was discharged from the Bach Mai Hospital after three weeks of intensive treatment. 
Dr. Nguyen Gia Binh, head of the Intensive Care Department, said Thuy was taken to the hospital in serious condition suffering primary viral pneumonia and multi-organ failure.
Vietnamese doctors consulted with Japanese counterparts to come up with a comprehensive treatment plan that included continuous renal replacement therapy to remove toxins in the patient's blood, and reduce inflammation and organ damage.
The physicians' efforts were rewarded after seven days as the woman began to improve and did not require the use of a breathing machine. After 10 days of intensive treatment, doctors said that Thuy's organs had returned to normal functioning.
Bach Mai doctors also used other methods to help save the woman and are continuing to monitor her.
Dr. Binh said the method was first used in Japan but it is not widely implemented around the world as it is very expensive.
The Disease Control and Prevention Center (DCC) of the International Medical Center of Japan, which has a partnership with Bach Mai, sponsored the treatment process, which cost nearly VND200 million (US$10,500).
Dr. Nguyen Quoc Anh, Bach Mai Hospital's director, said the new treatment techniques will hopefully pave the way for more successful outcomes in cases of severe or late-stage avian flu cases.
DCC Director Dr. Koichiro Kudo said the challenging case was beneficial for Vietnamese doctors as it improved their knowledge, determination and teamwork.