The Ho Chi Minh City Children Hospital No.1 August 16 announced a success in saving a child who was stabbed in the heart and lung.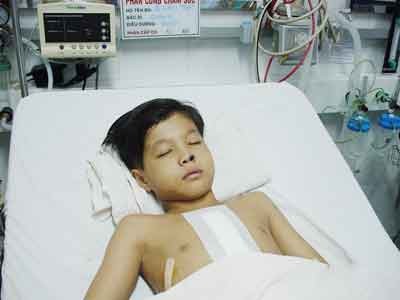 The kid in intensive room in the Children Hospital No.1 after the surgery (Photo: SGGP)
The 11 year old child Le Cong Truc in the Mekong delta province of Long An's district Tan Thanh was taken to the emergency room of the district hospital with an iron stick through his body. Doctors soon cut a wooden part of the  stick and transferred him to the city Children Hospital No.1.
The 20cm iron stick with the outside part moved after the beat of his heart. It has stabbed through right pleura of the lung and right ventricle. When doctors in the  hospital carried out a cardiac surgery, removing the iron stick, the kid's heart sometimes stopped beating because he lost so much blood.
The child patient had recovered after five days in intensive care. The boy was stabbed when he and other children in the neighborhood hunted mouse in fields, his friends thrust him by chance.