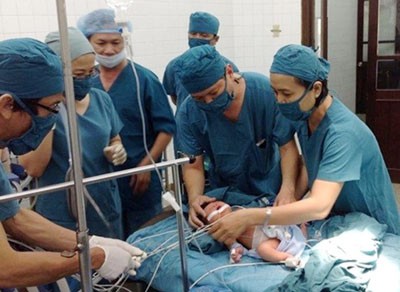 HCMC doctors consult each other prior to surgery (Photo: SGGP)
The miracle operation conducted on a newborn baby several days ago by physicians of Children Hospital No.2 in Ho Chi Minh City still echoes among the public, with comments of praise for the doctors going viral on websites.
The network community and the public are in awe of the doctors who saved the life of this newborn baby born without an anus at the Maternity Hospital in the central province of Phu Yen.
Doctors at the Children Hospital in HCMC sacrificed their holidays to save the life of the baby, earning much praise from the public at large.
Back to work, Dr. Truong Quang Dinh, deputy director of Children Hospital, still called the Maternity Hospital in Phu Yen Province to ask after the health of Le Hoang Kim, the newborn. The fate of the group of doctors and the child seemed to connect when these doctors heard of the story of the baby while on vacation in Phu Yen Province.
The baby's family was desperate as the child was born without an anus and the Children Hospital in HCMC had diagnosed him with congenital heart disease with Down syndrome. The baby's relatives decided not to have an operation and left the baby to die.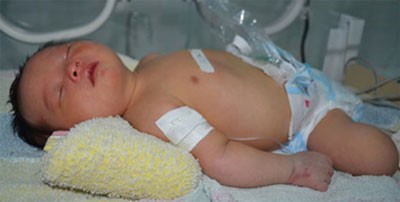 Le Hoang Kim was born without an anus, whom doctors saved in miracle operation (Photo: SGGP)
On his Facebook page, Dr. Dinh shared, "How can anyone have the heart to leave such a good-looking baby dying". HCMC physicians spent time persuading relatives of the child to sign for the surgery to save the baby.
The good hearts of doctors managed to persuade the relatives and they succeeded in the two hour operation. Dr. Dinh said the baby is recovering and will undergo another operation in three months. In his Facebook page, instead of pictures of Da Dia waterfall, he posted photos of the surgery and the baby.
Praise and comments have flooded the net and encouraged medical workers and people in Phu Yen as well as HCMC.
To Dr. Dinh and his colleagues Dr. Pham Ngoc Thach, Nguyen Thi Thanh Phuong and Vo QUoc Bao, their act was very normal as part of their duty when they read their oath as physicians to practice medicine honestly.