Doctors at Hospital 115 in Ho Chi Minh City successfully operated on a 29-year-old man to extract a seven centimeter toothpick from inside his colon.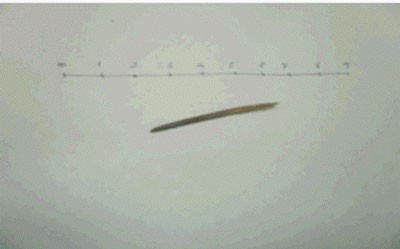 The toothpick in the man's colon
The patient had been hospitalized for severe pain in his lower belly area, for several days. He had come to the hospital for a diagnosis of his condition, which only seemed to worsen.
Dr. Tran Kinh Thanh examined the patient and his past medical record. The man said that he and his wife had gone to his hometown during the Tet Festival, and since then he had had the pain.
He did visit some medical clinics where he was diagnosed with digestive infections and appendicitis that needed to be operated.
However, doctors at Hospital 115's Digestive Division ruled out appendicitis or digestive infection; and decided on an endoscopy of the colon. Endoscopy results showed that a sharp toothpick lay horizontally in the man's intestinal tract, causing the pain.
Doctors decided to perform an urgent surgery on the man, though a very difficult one as it is not easy to pick a small toothpick without injuring other organs.
However, since the operation, the man has gradually recovered and is expected to be discharged this week.
Dr. Le Thi Tuyet Phuong, head of the Division, said one of the most common locations for a foreign body is the alimentary tract. Rarely do foreign bodies fall into the colon, but if this happens, it can be very dangerous and even cause death because of necrosis of the guts and other infections.
Some Vietnamese people have the habit of holding a toothpick in their mouth after meals and even going to bed with it in the mouth. This is a dangerous habit as people can swallow such foreign objects. If detected in time, a patient can avoid damage to internal organs and possible death.