Surgeons have successfully performed heart and liver transplant surgeries from a brain-dead donor in Viet-Duc Hospital in Hanoi, said the hospital on September 6.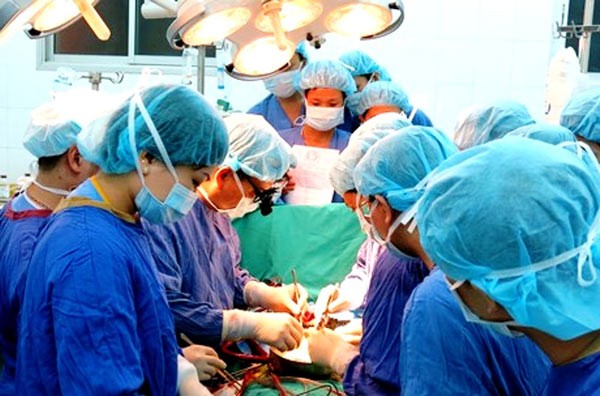 Liver transplant is performed in Viet - Duc hospital (Photo: SGGP)
Knowing that country leading Cho Ray Hospital in Ho Chi Minh City has organ donation from a bread-dead donor, a team of doctors of Viet – Duc hospital came to Cho Ray Hospital on September 4 to take out the organs.
The heart and liver were then preserved in special chemicals to bring back to Hanoi. While the team was on the plane, medical staffs in the hospital completed removing the decayed liver and heart for new transplantations.
 
After 7 hours, the two transplant surgeries finished and after 24 hours, the two recipients recovered. The heart recipient is a 60 year old man who suffered a strain at his myocardium for the last stage and the liver recipient is a 40 year old man who has liver cancer and cirrhosis.
 
These are the 25th transplant of liver and the 11th transplant of heart from brain-dead donors carried out by surgeons of Viet-Duc Hospital.