Bird flu may have killed a 32-year-old Vietnamese man in northern Viet Nam, said Ha Noi's National Contagious and Tropical Diseases Hospital deputy director Nguyen Hong Ha on January 22.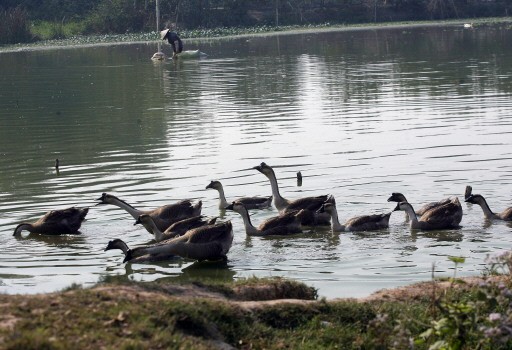 Geese swimming on a lake in the northern Bac Ninh province (Photo: AFP).
The news was confirmed by the National Steering Committee for Avian Influenza Prevention and Control at a press conference the same day.
The victim whose name is withheld hails from Son Duong district in the mountainous Tuyen Quang province. He was admitted to hospital suffering from serious pneumonia.
Doctors suspected he was infected with bird flu's fatal H5N1 strain.
Dead chicken and white-winged ducks were found in his house, his relative said. He may get the virus from killing them for food.
The H5N1 virus was confirmed in poultry samples taken in Tuyen Quang province, according to the National Animal Health Department.
At present, bird flu outbreak has recurred in the northern provinces of Thai Nguyen and Tuyen Quang, and Tra Vinh province in the south.
In related news, a flock of 1,700 waterfowls owned by farmer Nguyen Ngoc Xuan suddenly died en mass in the central province of Quang Binh over January 10 -14.
Test results showed that the H5N1 virus was present in the birds, said Pham Hong Son, Head of Quang Binh Province's Animal Health Department.