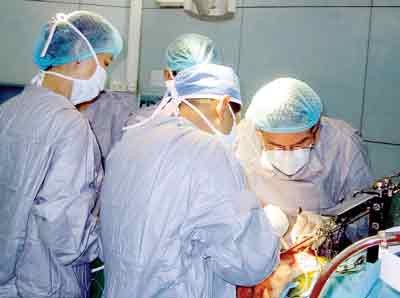 Doctors at Children Hospital II perform a liver transplant for baby Tang Ngoc Nhi on December 7 with the assistance of Belgian experts ( Photo: SGGP)
Though the seventh liver-transplant was successfully done last week in Ho Chi Minh City-base Children Hospital II, doctors participating in a conference in Ho Chi Minh City December 10 expressed doubts if Vietnamese hospitals can perform the operation without the assistance of foreign surgeons.
The recent surgery was done with the assistance of Belgian surgeons.
Speaking at the "Surgery for children and Anesthesia" conference, Dr. Truong Quang Dinh, deputy director of Children Hospital II, said Vietnamese doctors do not have the confidence to perform the surgery.
Doctors at his hospital are still practicing it on dogs and mice, he said.
A study he did found 100 babies affected every year with biliary atresia, a condition caused by the blockage or absence of the common bile duct between the liver and small intestine.
His hospital is currently treating 30 toddlers with the condition and half of them need liver transplants, he said.
The Director of the Hanoi-based Central Pediatrics Hospital, Nguyen Thanh Liem, said his hospital too receives hundreds of patients with liver diseases every year and there is a serious need to develop liver-transplant techniques.
Dr. Tran Dong A, former director Children Hospital II, expressed apprehension about the fact that foreign surgeons are still required to perform the surgery.
Related article:
Belgian, HCMC doctors perform city's 7th liver transplant