The US filmmakers have just screened the 56-minute film "The Last Ghost of War" about orange agent's effect on Viet Nam in the US.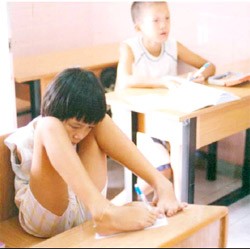 A scene of the film
The filmakers document the Vietnamese AO victims who are taken care of at Tu Du Hospital in Ho Chi MInh City.

Thirty years after the end of the Vietnam War, they are among several million victims of Agent Orange. In The Last Ghost of War, viewers meet the Vietnamese plaintiffs in a class action suit against 32 US chemical companies.

These victims are seeking compensation and justice.
The question is whether these dioxin laden herbicides chemical weapons. And if so, who should be held accountable in the wake of what was the largest chemical warfare operation in the US history?
This investigative documentary is a presentation of the Center for Asian American Media with support from the Corporation for Public Broadcasting.
This film was made possible by a grant from the New Jersey Council for the Humanities, a state partner of the National Endowment for the Humanities.

This film is a sponsored program of New York Foundation for the Arts.
In The Last Ghost of War, Vietnamese and American veterans, chemical workers, lawyers, scientists, and a military historian take us to this final battlefield.

The film, narrated by Kevin Kline and directed by Pham Quoc Thai and Janet Gardner, is shot on locations in Viet Nam, France and the United States.