Participants from the Competition Control Agency, part of the Ministry of Industry and Trade, and representatives from relevant agencies discussed unhealthy business practices by drug traders at a meeting on March 20 in Ho Chi Minh.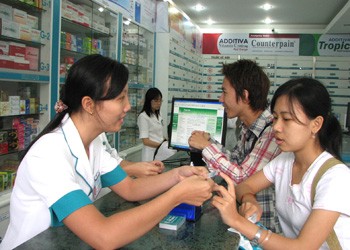 Medicine purchased at a pharmacy
Agency officials pointed out that domestic and foreign drug distributors, brokers and pharmaceutical companies have been colluding to exploit loopholes in the law to fix prices, which are 200-300 times higher than cost prices.
Before importing drugs into Vietnam, distributors and brokers collude with foreign companies to fix prices.
Foreign drug exporters have said that they sell products to Vietnamese partners and declare prices before these products are imported into Vietnam.
The prices in Vietnam are decided by Vietnamese importers and distributors who declare that that the prices of imported drugs in Vietnam are decided by foreign pharmaceutical distributors.

Research by the agency shows that another business trick used by pharmaceutical trders is to control the volume of drugs on the market to push up prices.
Few companies have licenses to import certain kinds of medicine, which has led to abuse of the system. For example, a business uses Company B to import. Later, they work with company C to buy half of the medicine. These will be distributed at a normal price. Once a shortage of the medicine occurs the remaining half will be launched on the market at higher prices.
Participants at the meeting believe prices may be imposed by foreign companies and Vietnamese importers and distributors are accessories, and care little for patients.
Under current regulations, foreign-invested companies and branches of foreign firms are not permitted to distribute drugs in Vietnam. They have been allowed to directly import drugs into Vietnam since January 1 but they are not allowed to directly distribute drugs.
However, foreign pharmaceuticals are controlling most of the volume of medicine coming onto the Vietnamese market. Because foreign companies hold patents for some medicines they only license products to certain companies in Vietnam, which leads to a monopoly.
Surveys show that wholly-foreign owned companies in Vietnam (Diethelm Vietnam, Mega Lifesciences Vietnam, Zuellig Pharma Vietnam) are controlling segments of the market.
Complex distribution systems, including a lot of intermediate enterprises, push up drug prices. Finally, doctors or pharmacists get commission when they write prescriptions for specific foreign drugs, also causing prices to soar.
A World Bank representative, Nguyen Nguyet Nga, said that patients have no choice because hospitals favor costly imported medicines through tenders. Doctors usually base prescription decisions on hospitals' listed drugs.
Ms. Nga petitioned the ministries of Health, Finance and Social Insurance, Customs and Tax to coordinate to introduce measures to tighten regulations on the pharmaceutical sector.
Tender procedures should be transparent, and treatment and listed drugs changed, Ms Nga said.
Relevant agencies should oversee imported and reference prices, as well as the volume of imported drugs, Ms Nga concluded.