In less than two weeks, drug prices have increased by 10-30 percent throughout the country, in spite of warnings to pharmacies from the Vietnam Drug Administration (VDA).

Many pharmaceutical companies, importers and distributors have also hiked prices even though the
VDA, a division of the Ministry of Health, has ordered them not to.

The poor reporting suffering the most from the cost increases.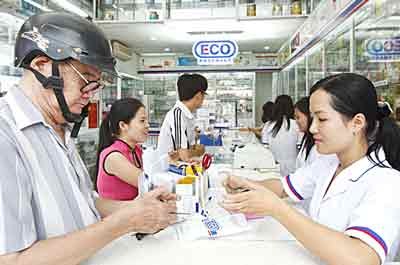 A customer purchases pharmaceuticals in Ho Chi Minh City. In the last two weeks, the price of several drugs has soared, putting a strain on the poor in particular ( Photo: SGGP)
Ms. H.T Be from the Central Highlands province of Dak Nong said she was shocked by the new cost of five drugs she takes to treat her cervical cancer.

She said a few days ago, a vial of Eprex used to treat anemia cost VND540, 000 (US$29) but the price was now VND567, 000. Ms. Be, who requires six vials per treatment session, said she has to pay a total of VND3.5 million for the medicine.
Another drug for cancer treatment she takes, Avastin, has soared from VND7.7 million a vial to VND8.5 million.

Ms. Be said she simply cannot afford the new costs. She has already sold her house and farm to pay for a year's worth of treatment. Without the drugs, death is inevitable, she said.

Many others like Ms. Be who suffer from chronic conditions like cancer and heart disease, say they too can do nothing but wait for death as the new prices apply mostly to drugs used to treat these illnesses.

The drug CMP Nucleo Forte, for instance, which is used in the treatment of peripheral nervous system disorders, has jumped from VND205, 000 to VND249, 000. The cost of Doxorubicin and Carbosplatin, used in cancer treatment, is also up 11-15 percent each.

In recent weeks, pharmaceutical wholesale centers Diethelm and Zuellig Pharma in Ho Chi Minh City's District 10, announced some drugs would increase by five to 15 percent in December. Antibiotic drugs like Klacid Forte, for example, has increased to VND450, 000 from the previous VND403, 000, the distributors said.

In a recent dispatch to local pharmaceutical producers and businesses, the VDA ordered enterprises not to speculate and create a perceived shortage to raise prices. It also forbid businesses from taking advantage of the recent currency rate adjustment to increase prices. But despite the orders, drugs have continued to be marked up.

Importers blame the stronger US dollar and Euro for the domestic cost hikes. But officials say that before raising their prices, import companies and pharmacies need to obtain permission from the government, which most have not done.

A shop assistant at a pharmacy on HCM City's Hai Ba Trung Street in District 1 said he learned three weeks ago that other pharmacies would increase their drug costs by 5-6 percent. To avoid being caught by authorities, he says he was told by an unnamed source to increase prices a little at a time.  

Some pharmacies said they had to push up drug prices since they no longer received commission or promotional gifts from wholesale manufactures and distributors. In addition, pharmaceutical manufacturers said price hikes were necessary to subsidize overseas trips for doctors and partners at the end of the year.

Ngo Chi Dung, director of the Joint-Stock Pharmaceutical Company ECO chain, said his company would not increase prices. He pointed out the currency rate changes were the main cause of the increased costs imposed by other pharmacies.

Nguyen Viet Hung, deputy head of the Drug Administration of Vietnam (DAV), said his administration and provincial health departments would monitor and impose penalties on pharmacies, distributors and producers who set unreasonable prices. However, a macroscopic strategy is needed, he said, as drug prices often increase following currency rate adjustments.