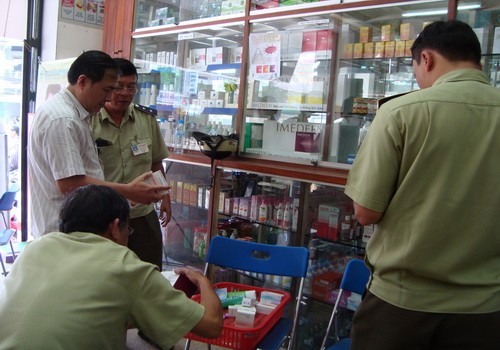 HCM City Market management inspectors check drugs at an outlet of My Chau at 338 Le Van Sy Street, district 3 on Jan. 8, 2009 ( Photo: Tuoi tre)
The Drug Administrations of Vietnam has ordered the Ho Chi Minh City Department of Health impose severe punishment on the My Chau drugstore chain for possessing hundreds of containers of expired and unregistered drugs and food supplements.
In a dispatch January 12, Nguyen Viet Hung, deputy head of the administration told the DoH to also review its certification of My Chau for Good Pharmacy Practice (GPP) and report back.
Tran Quang Trung, chief of Ministry of Health (MoH) inspector, ordered the DoH to liaise with the city Market Management Bureau to find out My Chau's violations and report to the ministry.
During routine checks in the last two years, ministry inspectors detected several wrongdoings by My Chai but did not investigate further, instead ordering the drugstore itself to fix them since it had just been awarded a GPP certification.
They also admitted they failed to discover the violations uncovered recently by the Market Management Bureau because they were unable to enter warehouses during their inspection.
Mr. Trung said the DoH must be held accountable for the violations because it had certified that seven out of My Chau's 18 outlets conform to GPP standards.
Le Dinh Bach, manager of Minh Phuc Pharmacy, who owns My Chau drugstore chain, wrote to Sai Gon Giai Phong January 12 claiming it has reported wrongly about his company's activities.

His company bought 10 outlets and a warehouse from Y Duc last April and discovered some expired drugs in stock. They remained in storage until documents for their destruction could be made, he claimed. Unfortunately, at that time, his boss and director, Le Thi My Chau, went abroad for six months, causing a delay in drafting the documents, he said.

He also claimed his company did not pay much attention to the origins of the drugs that were in stock when it bought the operations.
Related article:
Health department under scanner as drugstore chain caught with expired drugs
HCMC drugstore chain faces closure for violations