Drugstores that are certified as adopting Good Pharmacy Practices (GPP) would be allowed to sell drugs bought into the country from abroad by individuals, Deputy Minister of Health Cao Minh Quang said.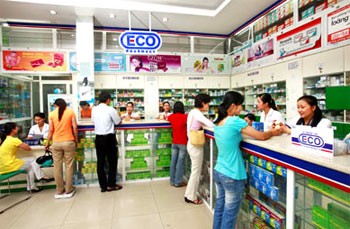 A Good Pharmaceutical Practices-compliant drugstore run by the ECO Pharmacy Joint Stock Company in HCMC
At a ceremony held in early August to announce that drugstores belonging to ECO Pharmacy Joint Stock Co are the first in the country to meet GPP standards, Mr.Quang said the ministry would assist enterprises in developing GPP pharmacies.
 
They are allowed to sell scarce and unregistered drugs unlike non-GPP shops.
 
They also get priority in tenders to supply medicines to public hospitals, national health programs, and health insurance services.
 
To meet GPP standards, drugstores must meet several strict criteria -- like having a minimum area of at least 10 square meters and facilities to preserve drugs as specified on their labels.
 
The ministry has regulated that all drugstores attached to hospitals and drug companies must meet GPP standards by 2011 while all other drugstores have until 2013.