Various kinds of Chinese–made powdered milk and other milk products of dubious quality sold in Ho Chi Minh City are being used for making cakes and yoghurt, a senior health official says.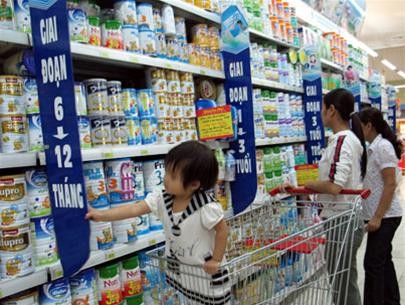 Various kinds of powdered milks are available in supermarkets in Ho Chi Minh City(Photo:TTO)
Dr. Le Truong Giang, deputy head of Ho Chi Minh City Department of Health, says his department on Tuesday has asked the city market management and district people's committees to carry out mass inspections of milk trade and processing procedures.
Inspectors from the Ministry of Health and concerned departments have inspected many stores and supermarkets in Ha Noi.
They affirmed that contaminated powdered milk produced by China's Sanlu Group is not available in the country.
In the aftermath of the Sanlu baby formula scandal in China that has left two children dead and more than a thousand with kidney stones, New Zealand dairy company Fonterra, which holds a 43% stake in Sanlu, announced that their milk products with the Anmum, Anlene and Anchor trademarks available in Viet Nam are safe for customers.
A company representative said that the Chinese government has recalled all the melamine-tainted milk from shelves in China.