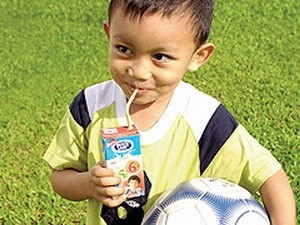 An advertising photo of Vivinal GOS milk
Following suspicion of allergic reactions among children after drinking Dutch Lady Vivinal GOS milk made by FrieslandCampina Vietnam, the company has halted production of this milk.
Vietnam Food Administration (VFA) deputy head Hoang Thuy Tien said October 26 that the decision to suspend business came from FrieslandCampina itself and that the VFA had not ordered it to close down.
Mr. Tien said, however, that the manufacturer should closely monitor its sales and distribution, and report details of its milk production process to health authorities.
A decision to suspend FrieslandCampina in the future should be based on scientific evidence confirming the product's adverse effects, Mr. Tien added.
VFA, the National Institute of Nutrition, and the Ho Chi Minh City-based Institute of Hygiene and Public Health have taken samples of the milk for testing. Health officials have also ordered FrieslandCampina Vietnam to strictly control the quantity of its milk sold in markets and cooperate with health facilities to provide care for the sick children.
Under the direction of Deputy Health Minister Trinh Quan Huan, VFA demanded the milk manufacturer hold a meeting with VFA concerning the scandal. Following the meeting, the manufacturer should publicize information about its milk products and give appropriate warnings.
Some 12 toddlers in Ho Chi Minh City and Hanoi have now been hospitalized with skin rash, breathing problems, and stomach upset, allegedly after drinking Dutch Lady Vivinal GOS milk.
Vivinal GOS is advertised as containing GOS (Galacto Oligosacharide), a natural fiber in dairy that helps enhance absorption of nutrients and stimulate healthy growth.
Reasons for allergic reactions to milk can include the beverage's protein content or an inability to digest cow milk. However, some nutrition experts say babies can suffer allergic reactions even if they are breastfed.
Related articles:
Experts to examine kids allergic to Dutch Lady milk
HCMC health officials investigate Dutch Lady's dodgy milk