During Vietnamese Lunar New Year festivities in February, many pigs were slaughtered and served, some people ate raw; consequently, three men were taken to hospitals in serious condition and one was killed by swine bacteria.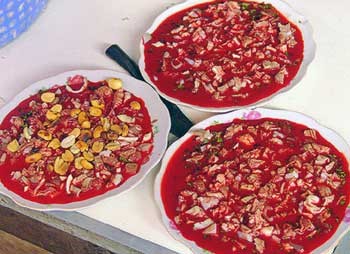 Swine blood curd
The National Tropical Disease in Hanoi yesterday said that it had admitted three men in critical condition due to eating pig blood curd.

Worse, a 60 year old man from the northern province of Nam Dinh suffered high fever, acute diarrhea and rash in the body. He also had septic shock and organ failure when he was transferred from the General Hospital in Nam Dinh Province to the National Tropical Disease.
Doctor's efforts to save him were unrewarded, he succumbed to the bacteria.

The two other men are nearly 40 who also had fever, headache. They were both diagnosed to have meningitis due to swine bacteria. Currently they received intensive treatment.

The Ministry of Health said that swine bacteria transferred from animals mostly pig to people causes meningitis and septic shock with high mortality rate.
To prevent the disease, medical experts advised people to say no to underdone pig blood curd and pig viscera. Additionally, people should not cook ill or diseases pig with strangely red meat and keep personal hygiene well.