An investigation has cleared most vendors in Hanoi suspected of selling industrial eggs as "free-range," though authorities say most of the eggs are of unknown origin and consumers should be wary.
Recent media reports had suggested that market-sold eggs in the capital were being bleached to give the appearance they were "Garden Fresh," allowing traders to sell them at higher prices.
Health officials collected egg samples from the vendors and have determined that most were not subjected to bleaching, though they lacked documentation of health and safety checks.
A large number of the eggs were imported from China through Lang Son and Mong Cai border gates in northern Quang Ninh Province, they added.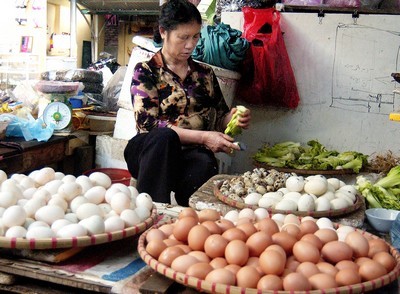 It is difficult to distinguish between domestic eggs and imported eggs.
A trader from Long Bien market, Hanoi said the price of Chinese eggs is cheaper than Vietnamese ones by up to 40 percent.
The city's Department of Health said officials returned 6,000 eggs to traders in Dong Anh, Hanoi who were able to provide proof of the eggs' origin. The rest will be discarded, the department said. 
Hoang Thi Thang, deputy head of Hanoi's Veterinary Department, said that legally, poultry eggs from domestic farms are required to undergo health and safety tests before being sold in markets. However, the department was unable to effectively monitor the quality of imported eggs, she said.
Most people are unable to distinguish between domestic eggs and imported eggs, Thang added. Authorities, therefore, have a difficult time controlling the number of eggs smuggled into Hanoi markets.
Nguyen Thanh Son, deputy head of the Livestock Breeding Department, said eggs without health and safety documentation or proof of origin were likely smuggled.
Son added that authorities need to step up efforts at border gates to stop smuggling.
According to To Long Thanh, deputy director of the Central Institute for Veterinary Diagnosis, because of the difficulty in visually distinguishing safe eggs from unsafe ones, consumers should insist on buying eggs of clear origin from reputable sources only.