Encephalitis is plaguing in 31 provinces and cities in Vietnam, having affected 325 people and killed five of them this year, health authorities said.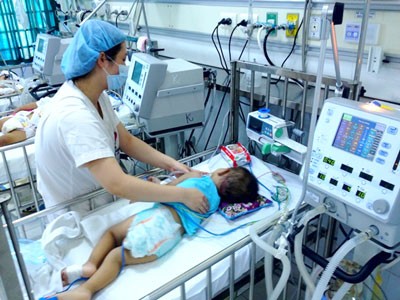 Children are being treated in the National Pediatrics Hospital in(Photo: SGGP)
The disease mainly affects children under the age of 15 yet hospitals also received some adults suffering encephalitis in last months. There have been an increasing number of Japanese encephalitis children.
A 20 year old female patient in Dong Anh, Hanoi has been hospitalized in the National Tropical Disease Hospital for over a week and received intensive treatment in emergency room but she is being in a coma and her health condition is poor.

Dr. Nguyen Trung Cap, deputy head of the Emergency Ward, said that this patient was experiencing convulsion fits, feeble four limbs and she was put on breathing machine. It is anticipated that she can't survive and she would suffer after-effects on the brain nerve and kinetic system.

Dr. Nguyen Trung Cap added that two more female patients in Hanoi suffering Japanese encephalitis were hospitalized in severe condition. Moreover, tests showed that they were suffering brain and spinal cord injuries.

Dr. Cap advised people not to neglect the disease though Japanese encephalitis rarely occurs in adults. However, medical experts are worried as there are three severe Japanese encephalitis cases on adults.
Soon after they have lasting high fever, headache along with vomiting, people should go to hospital in order to minimize after-effects.

129 children in the northern provinces with encephalitis are being treated at the Central Pediatrics Hospital in Hanoi, including 46 suffering Japanese encephalitis.

Dr. Do Thien Hai, deputy head of the Infection Sector, said that from end of June, Japanese encephalitis children increased dramatically. Noticeably, the proportion of infection cases this year is 20 percent higher than previous years.

Dr. Tran Dac Phu, who heads the Department of Preventive Medicine, said that encephalitis due to virus including Japanese Encephalitis is a fatal disease as it is caused by various viruses.
Signs of the disease include high fever and other symptoms relating to injuries in the central nervous system including headache, sensitivity to light, general malaise, stiff neck, stiff back, vomiting, confusion, memory loss, seizures, paralysis and coma.
Children aged below 15 are most vulnerable to the disease. Encephalitis can appear all year round, but its peak times are in June, July and August,

According to the Department of Preventive Medicine' latest statistic, of the total number of patients, 65.8 percent were in the northern region, while 12. 3, 17.5 and 4.4 percent were in the central, southern regions and Central Highlands respectively. Cases are scattered.

There is no specific vaccine against viral encephalitis, except Japanese encephalitis, said Dr. Tran Dac Phu. Vaccine against Japanese encephalitis has been included in the National Expanded Immunization program since 1997 and immunization has been carried out at 580 districts of 60 cities and provinces across the country.

The Department of Preventive Medicine asked municipal and provincial people's committee to mobilize the participation of all sectors and take measures against viral encephalitis and improve treatment efficiency to minimize mortality and bar cross-infection at health facilities.
Early detection of infected people is required to isolate the area and handle the outbreaks. Vaccination should be conducted among children in the age to ensure high rate of immunization.

People should clean the houses and farms to prevent mosquitoes and sleep in mosquito-nets.