The so-called 'Te Nan Phong Bi' (envelope evil) practice at public hospitals continues to raise serious concerns in the health sector, according to findings in a study by Towards Transparency, an organ of Transparency International in Vietnam and the Research and Training Centre for Community Development.

Towards Transparency conducted the study from August 2010 to February 2011 in Hanoi, the northern province of Son La, the highlands province of Dak Lak and the Mekong delta city of Can Tho.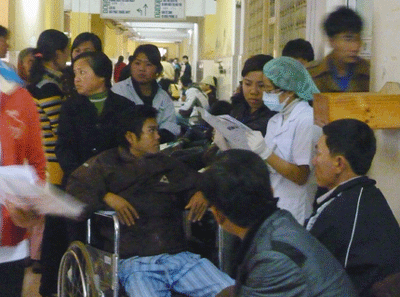 Because public hospitals  always overcrowded with patients the 'envelope evil' continues
The study themed "Informal payment in Health Services: Reality and Solutions" also uncovered that offering cash directly or by way of cash in envelopes was a common method for making underhand payments for health services.

According to the survey, value of envelope payments varies greatly in districts and central hospitals, as well as rural and urban health centres. For instance, people give VND200,000 (US$ 9.59) to doctors and VND20,000 to nurses in districts.
However, this amount is ten-fold in central hospitals. Moreover, patients are required to offer money to administrative staff, guards and health insurance staff in big city hospitals.
While most of the health service providers interviewed at central and local health centres stated that informal payments are given voluntarily by patients, only a small number of patients admitted that the payment was made from their hearts.
Just half of the patients said they gave money or in-kind gifts because it is a common practice, while one third of the patients reported that medical workers do a rushed examination or display an indifferent behaviour if they don't receive money.
The study also found that there are a number of reasons for why patients give money and why health workers receive underhand payments. For patients, envelope payments are perceived to help gain access to better care or improved quality of care; to ensure the availability of supplies or transfer to a big hospital.
While health workers said that they accepted cash or envelopes because they wanted either to increase income to meet economic pressures, to expand social relationships or simply to avoid embarrassing patients.
The survey emphasised that health workers said the quality of care given does not differ regardless of whether informal payments are exchanged.
The survey also found that health facilities have applied a number of measures to control the practice of informal payments, including ethical discipline, financial punishment, open feedback (comment boxes) or the expansion of service accessibility.
In September 2011, the five biggest public hospitals in Hanoi banned their staff from taking tips or money from patients.