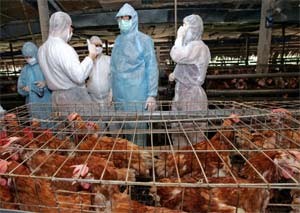 APEC delegates tour a private chicken farm in the Vietnamese central city of Da Nang (AFP Photo)
The event attracted over 200 participants, including doctors, nurses, and other medical and non-medical staff.
The scripts of the coordination plans to crack down the pandemic at site have been quickly reviewed and implemented. Ambulances rushed 4 action squads to the [supposed] infected area to practise quarantine measures, and chemical treatment of the epidemic center.
Besides, leaflets with directions on hygienic and preventive methods continued to be delivered to the public, and suspected infected cases were quickly taken to the isolated treatment center of the Tuberculosis and Lung Disease Hospital in Can Tho for timely exam.
The exercies occurred under the witness and supervision of the WHO representatives, leaders of the Pasteur Institute of Ho Chi Minh City, and medical authorities of provinces in the Mekong Delta. This is Can Tho's biggest ever medical exercise that came live on TV to the public to help with the propaganda campaign against the deadly avian flu.