Doctors of the Central Eye Hospital carried out a further 50 cataract operations in the new mobile eye hospital on Thursday. Based in the northern city of Hai Phong for the day, the majority of patients are from poor and disadvantaged families.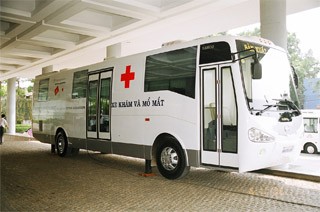 The mobile eye hospital (Photo:X.Hong)
The special vehicle, given to the Central Eye Hospital in late 2006 by the Japan Business Federation, consists of an examination room, an operating theater and a sterilization room; each of which is fitted with state-of-the-art equipment.
Doctors from the Central Eye Hospital had first conducted four free operations in the vehicle in January. The four patients, from the northern provinces of Thai Binh, Thanh Hoa, Hai Duong and Ha Tay, all made swift recoveries.
The vehicle has been very much appreciated by the people of Viet Nam and has helped to bring about good relations between Viet Nam and Japan.
Those suffering from cataract problems are especially grateful to those Japanese who helped to organize and fund the mobile hospital.