Markets for nutritional supplements are mushrooming with thousands of different products. In addition, products are sold not only through multi-level marketing but also currently via pharmacies and supermarkets or even in grocery stores. However, it is alarming that the sale of fake and substandard products mixed with high quality ones seems to be on the rise.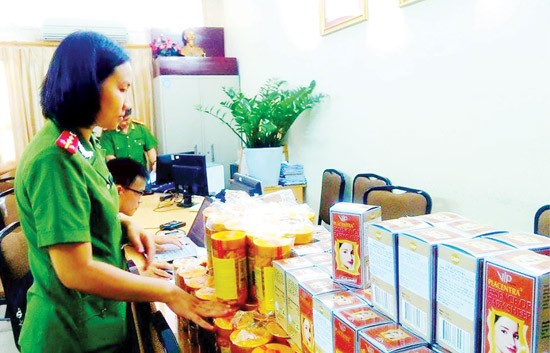 Police seize many fake nutritional supplements (Photo: SGGP)
Since early June, market management forces in Hanoi have inspected trading of nutritional supplements in pharmacies in the city and detected 82 violations. Inspectors have fined hundreds of millions Vietnamese dong.

Lately, many fake nutritional supplements have been detected causing public concern. For instance, on June 24, a special team from the Ministry of Public Security in coordination with the police department's economic crime investigation division (PC46), police in Ho Chi Minh City and some related agencies uncovered 60 containers of fake cosmetics and dietary supplements imported from China but disguised as from the US in a warehouse of Bao Khang Company in Phan Van Tri Street in Go Vap District

Before, PC 46 and police officers in Hanoi also seized around 20 tons of low quality nutritional supplements.

At the Medical Development Investment and Chemical VQTech in Ha Dong District of Hanoi. Most of products are made under brand name of Australian producer Costar. The fake products including Costar Royal Jelly, Omega 3, sheep Placentra and essence of Baby Sheep are sold like a hot cake in markets

Worse, Medical Development Investment and Chemical VQTech director Tran Quynh Nhu, 28, opened the company and registered quality at the Food Administration of Vietnam under the Ministry of Health to legalize the business of nutritional supplements.  Yet later, director Nhu imported material with unclear indication of origin to make products and distribute to supermarkets in Hanoi to earn profits.

In reality, markets of nutritional supplements are disorderly. Products are made from domestically materials to imported materials and during the manufacturing, producers have mixed many chemicals and pharmaceutical materials especially banned ones which caused dangerous side-effects.
For instance, lately, the Food Administration of Vietnam asked to remove three super Fat Burner, Maxi Gold and Esmeralda to reduce fat distributed by Van Son Company in HCMC as they contain banned Sibutramine substance.

This issue seems on an upward trend in the Southeast Asian and many countries in the world, said the Administration.