HCM CITY (VNS)— Once every three weeks, Tran Van An, a 65-year-old man with type 2 diabetes, sees a "family doctor" at the District 10 Hospital in HCM City.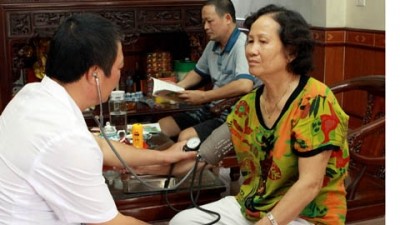 File photo
The regular visits to the doctor for more than a year has helped him effectively manage his chronic medical problems.
"The doctor keeps my health records and makes routine health checks," An, who lives in ward 15 in District 11, said.
"I have been able to prevent serious diabetes complications because of regular health checks and following the doctor's instructions."
With a prior appointment, it takes him just half an hour at most to complete his regular health check at the family medical clinic, he said, adding that he has to wait for two to three hours at other places.
The "family doctor" model requires the physicians to regularly inquire patients about work, lifestyle, and family health history to decide on the course of treatment, resulting in a close doctor-patient relationship, Dr Nguyen Thanh Binh of the family medical clinic said.
The doctors spend an average of 10 minutes on each patient and carefully track their health records, he said.
"Patients can call me for advice.
"Family medicine provides a healthcare model that is fully patient-centred, allowing patients to choose a doctor they feel satisfied with and shortening the waiting time for check-ups."
The clinic has 25 doctors treating 300-350 patients every day, Le Thanh Tung, deputy director of the hospital, said.
The clinic, set up at the hospital in October last year, manages more than 11,200 health records, he said.
It provides great satisfaction to patients due to the quality of healthcare and by saving them time and money, he said.
Patients with health insurance cards get all the normal benefits despite the personalised service, he added.
If patients require another specialist or to be hospitalised for treatment, family doctors guide their patients as well as update information about the treatment in patients' health records.
The doctors help patients both with acute illnesses and chronic medical problems like diabetes, hypertension, osteoarthritis, and asthma, Tung said.
An said: "I like the model because my chronic medical conditions are better managed by a single doctor with my health records being regularly updated.
"Besides health check and treatment, the doctor is willing to advise me about healthy eating, appropriate physical activities, and good habits to reduce the risk of serious complications.
"My wife and son also bought health insurance at the clinic due to its good quality of service as well as convenience for insured patients."
Nguyen Thanh Hiep, head of Pham Ngoc Thach University of Medicine's family medicine department, said a family doctor is the first person people turn to for treating medical conditions.
"Family doctors take care of the physical, mental, and emotional well-being of both patients and their families," he said.
"They are trained to take care of most health care needs and provide comprehensive care through all the stages of a patient's life.
"Family doctors play an essential role in the health care system, providing routine health screening, preventive care, and counselling on lifestyle changes to patients."
The university has worked with the city's Department of Health to provide training to the family doctors, he said.
District 10 Hospital is one of four in the city to adopt the model, the others being Go Vap District Hospital, Binh Tan District Hospital, and District 2 Hospital.
Nguyen Ngoc Duy, head of the Department of Health's planning division, said all district-level hospitals and community primary care clinics in wards and communes would adopt the model by 2015.
At least 30 private healthcare clinics would also have family doctors by 2015 under the 2013-20 national plan on development of family doctor clinics, he said.
By 2020 all general hospitals and private clinics in the city would be in the programme, he said.
The city is focusing on training human resources for the programme and developing a system for maintaining health records electronically, he said.
"Family medicine model is one of the fundamental measures to improve community healthcare and reduce patient overload at major hospitals in the city," he added.