Italian surgeon Roberto DeCastro, who successfully performed genital organ regeneration surgery on a Vietnamese boy who lost his penis and a leg in an attack by a wild animal, was on a working visit to Vietnam.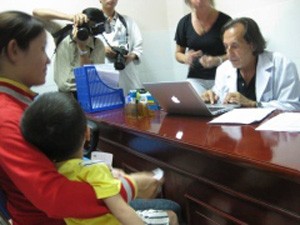 Dr Roberto DeCastro examines a child in Hanoi
Prof. DeCastro had performed similar surgery to 15 patients worldwide.
Associate Professor Dr Tran Thiet Son, Head of the Hanoi Medical University's Plastic Surgery Department, said the genital organ regeneration surgery using the patient's own tissue and blood vessels that Prof. DeCastro had performed to create a penis for the boy, Nguyen Thien Nhan, was the latest method in the world.
With the support of the President of the Asia Injury Prevention fund, Greig Craft, the adoptive father of Nguyen Thien Nhan, DeCastro and his team launched the "Regeneration of sex organs for Vietnamese children" programme two months ago.
Under the programme, the Italian surgeon joined his 16 colleagues from Vietnam to provide free examinations for 80 children with genital defects.
From now until November this year and in April 2012, 10 children will receive operations from DeCastro and his Vietnamese and Italian teams, while the remainder will be treated at the National Paediatrics Hospital, Vietnam-Germany Hospital, Cho Ray Hospital, Central Military Hospital 108 and Saint Paul's Hospital.
Such surgery needed support from both domestic and foreign organisations and individuals, as well as financial support from the Asian Injury Prevention fund, said Prof. DeCastro.
In 2008, DeCastro had performed surgery on Nhan, recreating his penis using the boy's own tissue at a hospital in the US.
The child was discovered in a jungle in the central Quang Nam province in 2006 after being abandoned at birth by his mother. He had been mauled by a wild animal, thought to be a dog, which chewed off his leg and badly savaged his genitals.