Although the government supports those who live close to the poverty line, tens of million farmers have not purchased medical insurance, Ms. Truong Thi Mai, chairwoman of the National Assembly's Social Affairs Committee, told a Sai Gon Giai Phong reporter.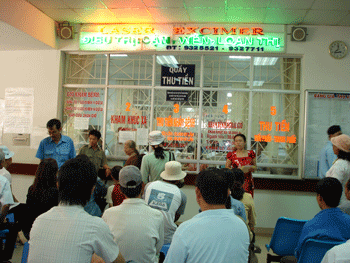 There is a discrimination in hospitals between insurance holders and those paying for health care services (Photo:Dan Thuy)
There is discrimination at hospitals because some patients have medical insurance cards while others don't. Some seek treatment during working hours, while others seek treatment after hours.
Earners with below-average income need the government's support when purchasing health insurance.

Currently, the state pays only for residents whose incomes are close and on the poverty line or whose family members are prioritized by social welfare policies, i.e. seniors and children under the age of six.
Government spending has not benefited farmers who don't belong to the above-mentioned groups. These farmers have no choice but pay VND250, 000 (US$15) a year for an insurance card.
Those in charge are afraid of running out of funds. The Ministry of Health must make a list of basic medical services. Patients, including those insured, must pay for medical services that are not on this list.
The Assembly is considering how much residents must pay for medical insurance. Some deputies proposed a maximum of 6 percent; others suggested that state agencies' employees pay 3 percent of their basic salaries and 5 percent of their pension and social security money. Workers at private companies pay 2 percent while their employers pay 3 percent.
At present, there is a paradox. The government plans to bring better health care services to residents in remote regions, but medical clinics there are only able to provide a few simple services, so many patients don't benefit from buying insurance. Patients who live in the cities do receive these services so insurance companies must pay more for better services.
Ms. Mai expects the Assembly to pass a law on medical insurance that protects patients' rights and regulates treatment so as to end discrimination at hospitals.