Ho Chi Minh City health officials are becoming alarmed by the increasing number of overweight and obese children, especially pupils in elementary schools. The number of such children is expected to continue rising, making childhood obesity one of the country's future greatest health challenges.

A week ago, Duong Ngoc, resident of District 3, had to take her six-year old boy, weighing nearly 70 kilos, to the center for an examination because the first- grade pupil cannot concentrate on his studies. He often feels tired and sleepy in the class.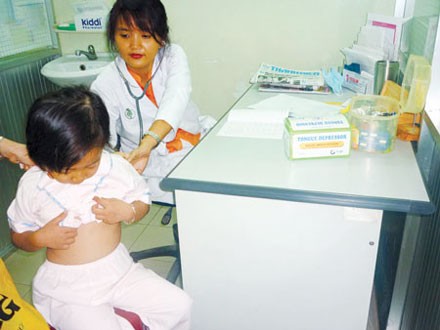 A child gets a health check before being given nutrition advice at the HCMC Nutrition Center (Photo: SGGP)
Dr. Tran Quoc Cuong, from the Clinical Nutrition Consultancy of the HCMC Nutrition Center, said that it is just one of so many similar cases as being overweight and obese are now among the most widespread medical problems affecting children in the city.

He pointed out that some 100 children are taken to the center daily concerning obesity. Although they are just between five and six years old, their body weight is between 20 percent and 40 percent heavier than the healthy weight for a child of that height. Particularly, there is a schoolboy who is just nine years old, but weighs as much as 110 kilos.

The problem, said Dr. Cuong, is that not many parents really comprehend the negative effects of obesity to their children's health. They let their children eat as much as they can because they believe that "gaining weight is a sign indicating that the children are in good health."

He added that only after taking their kids to the doctor for a health check because they have symptoms of diabetes or heart disease, do the parents realize that their children are suffering from obesity.

The number of overweight and obese children in the city at present makes up a large proportion. Recent surveys, conducted by the HCMC Nutrition Center among 2,500 pupils from two elementary schools in District 10, showed that the number of overweight and obese children accounts for 20.8 percent and 6.8 percent of pupils respectively.

A recent survey conducted by HCMC Children's Hospital 1 revealed that of 300 overweight and obese children over two years of age, half of them suffer from a fatty liver. They are all hooked on fattening and sweetened foods.

The problem is that the rate of overweight and obese kids is continuing on an upward trend.

Recent studies released by the HCMC Nutrition Center revealed that in 1999, only 2.2 percent of under-five years were overweight, but in 2008, the figure leaped to 10.9 percent.

Dr. Nguyen Thi Minh Kieu, chairwoman of the city's Nutrition and Food Association, emphasized that the increasing number of overweight and obese children points to a higher proportion of foods rich in fat, sugar and protein, which are present in children's daily meals.

She pointed out that today's busy families have fewer free moments to prepare nutritious, home-cooked meals. Fast food, take-away foods and sugary drinks, coupled with the number of hours children are inactive in front of the TV, on computers and playing video games are the main cause of childhood obesity.

Dr. Ngoc Diep, HCMC Nutrition Association, warned that childhood obesity is one of the greatest health challenges for the city's education and medical sectors, as it affects the children's spiritual and physical development.

She emphasized that obesity has a profound effect on a child's life. It not only increases the child's risk of numerous health problems, but can also create emotional and social problems.

Obese children tend to be slower learners and vulnerable to diabetes, cardiovascular diseases, metabolic disorder and cancers.

"We are running the risk of losing control over the increasing number of overweight and obese children, especially if the medical sector fails to raise parents' awareness of the importance of accustoming their children to good dietary habits and regular exercise," she warned.

Affective weight management programs should be incorporated in schools and families, suggested she as a measure.